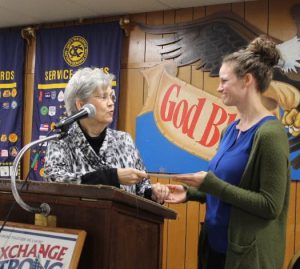 Albany Presents Check To Mission Strong
Editor's Note: Albany Georgia was hit by a vicious storm as the year began in January and we though the remarks of Albany's President Kay Griffin told the story of how the members of the Exchange Club of Albany reacted:
We have all had heroes in our lifetime. When I was very young, mine were Roy Rogers ("King of the Cowboys") and Dale Evan ("Queen of the West"). Most of you are too young to remember them. Roy and Dale were the good guys. In the end, they overcame the enemies and rode off into the sunset.
I have come a long way since my Roy Rogers and Dale Evans days. In the last couple of weeks, many heroes have emerged for me and I'm sure for all of you.
One hero is Bill Banks. Bill was a great Exchange Club member. He was one of those members who could be counted on for whatever project that we were involved in. Bill loved his God, his family, his friends, and his community. There was a great article about Bill in Tuesday's Albany Herald. If you did not see it, you need go back and read it.
Jason Mulford is another hero. There was a great article about him in last Saturday's paper which you also need to read if you missed it. After the storm, Jason wanted to do something. He created the #AlbanyStrong t-shirt and is donating the proceeds from sales to Mission Change. Mission Change is one of the agencies that we support. Last Friday, we presented them with a check.
Charles Freeman, Larry Griffin, Carl Gluckert, and Fred Jones with his wife Joyce work with the Samaritan's Purse. They along with the other members of the Samaritan Purse are heroes. This group has been serving our storm damaged community in the clean-up efforts. Larry has left envelopes at the club for anyone who would like to donate to this group.
Many of you have participated in helping those who have lost property, those whose property is littered with giant fallen trees, and those who have been without electrical power for days. Some of you have helped use chain saws to cut the trees into logs. Some of you have helped clean up debris. Some of you have cooked and delivered food. Some of you offered your homes to those who had no place to go. All of you are heroes.
Russ and Angie Allen are heroes. Right before the storm, they lost their home to fire. How difficult this has to be for them and their children. We are praying for them.
Last, but not least, there are those of you who have had damage to your property. You are truly heroes. I can't even imagine the emotions that you are having. We realize that for some of you, it will take weeks before your property will be repaired. You are in our prayers now and we will continue to pray for you.
I am proud to be part of a club that is full of heroes.