2023 Georgia District Convention
June 22nd – 25th, 2023 in Columbus, GA
To be held at the Columbus Convention Center and Columbus Marriot Hotel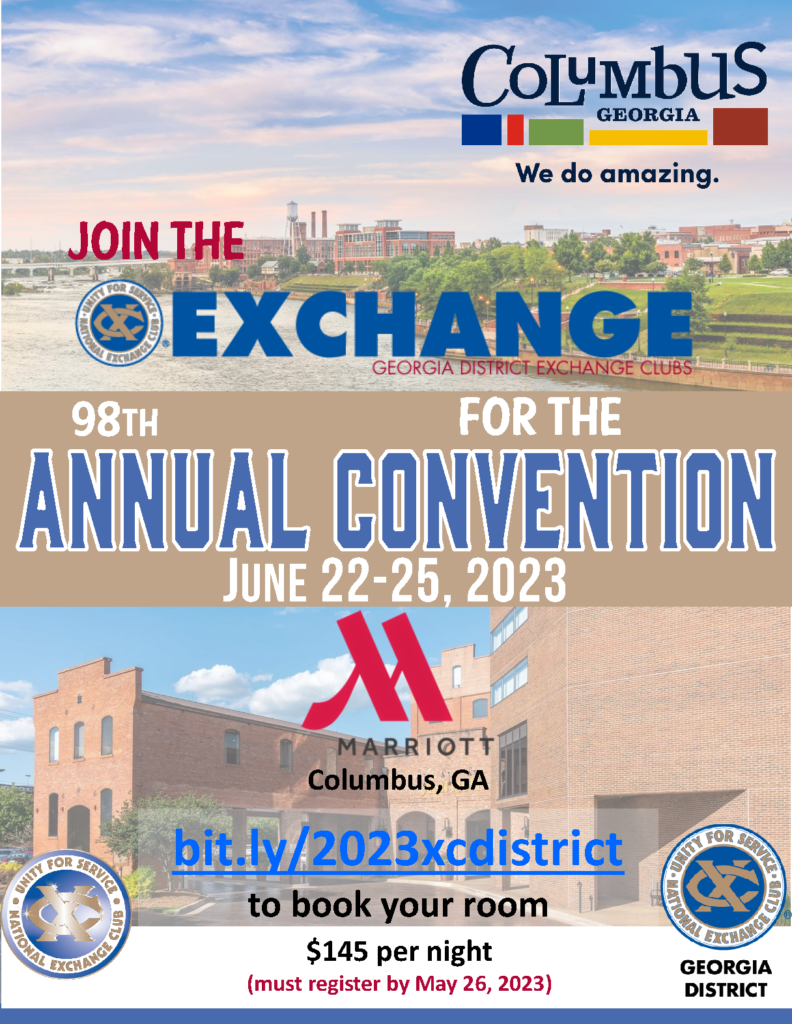 The 2023 Georgia District convention is just around the corner. It will be in Columbus at the Columbus Marriott and the Columbus Convention and Trade Center, June 22-25.
Make your reservations now or as soon as you can. The Marriott is already filling up. There is a deadline for registering tor our convention. That is May 10th, 2023. Any reservations made after that date will be charged a $30 late fee.
This convention will be a really good one. It begins on Thursday evening June 22 with dinner and a live auction to benefit the Prevention of Child Abuse at the W.C.Bradley Company Museum, just up the street from the Columbus Convention and Trade Center.
There will be outstanding speakers at the One Nation under God breakfast on Friday morning , June 23, and at the Prevention of Child Abuse breakfast on Saturday morning, June 24.
There will be the annual silent auction which benefits the Prevention of Child Abuse, Exchange education seminars, Youth of the Year, and A.C.E. awards. Don't forget that our winners for these awards in 2022, won the National awards at the National Exchange Club Convention in Greenville South Carolina.
Also, you can stop by the District hospitality suite in the Governor's Suite at the Columbus Marriott to try our famous and delicious peach daiquiris and meet other Georgia District Exchange Club members from across the state.
Attached are the flyers for you to register for the rooms at the Columbus Marriott and for the meals at the Columbus Convention and Trade Center. To register for the Marriott, just click on the link on the hotel flyer. Choose your choice of meals on the convention registration form and send it to District Treasurer Bryan Shealy at the address on the form.
We look forward to seeing you at the convention in June.
Be prepared to have a really good time.
Feel free to contact me with any questions.

Yours in Exchange,
Jess Lucas
404-713-7740
Jlucas2016@att.net
2022 Convention Wrap Up
The Exchange Club of Georgia held their District Convention in Albany, Georgia June 9th– 11th 2022. There were Exchange Club members from all over the state of Georgia and several National Representatives, including Tracey Edwards, CEO of the National Exchange Club, David Johnson, incoming National President, Kathy Mize, current Exchange National President, Gary Leonard, Region 10 Vice-President, and Mark Feldman VFR from South Carolina.
Georgia is the largest District in Exchange nationwide and our Convention is one of the largest Conventions in the Country.