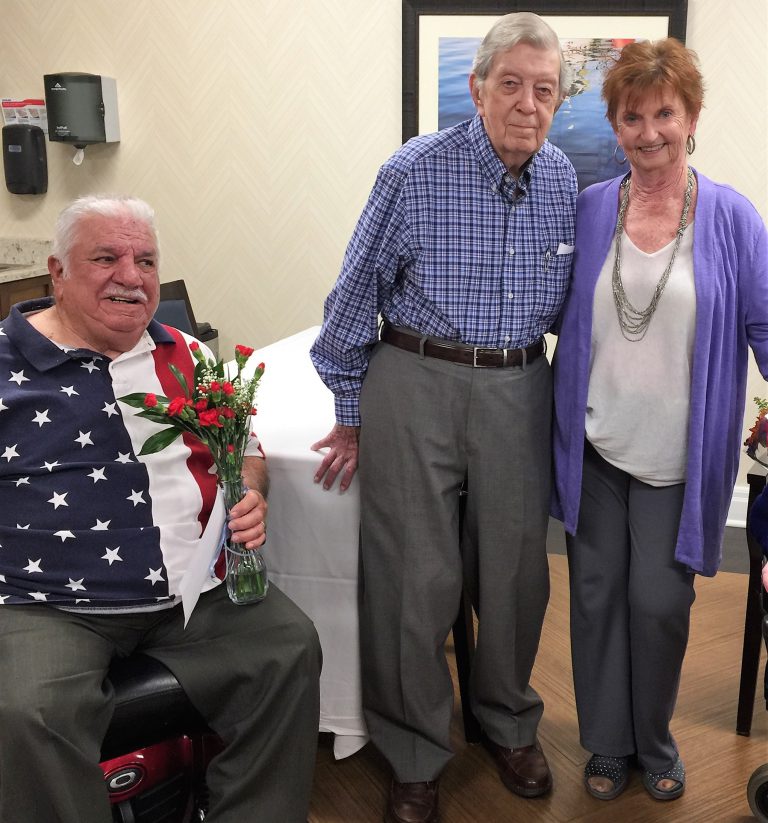 The Exchange Club of Columbus meeting was held at Covenant Woods, a local retirement community in honor of Veteran's Day. Nona Christie, Marketing Manager, introduced two Veterans that reside at Covenant Woods.
Tony Barriga is a veteran of Korea and Cambodia and has been in a wheelchair since 1965. His injuries have not stopped Tony from doing anything and everything that he wants to do. His motto is "You can do in anything!" Tony participates in Special Olympic wheelchair races; plays softball; organized a Bass tournament with over 80 boats and mentors local handicap children In conjunction with the Warrior Outreach Program he co-wrote and recorded the song "Keep Standing" with Nashville songwriter, Regie Hamm. He and his wife are also professional clowns and he loves to dance!!!
Charles Maupin, 98 years old, is a Veteran of World War II. He entered Normandy on the day after D-Day. Charles has vivid memories of those days and all the lives that were lost in the war. He was assigned to the 29th Division, 1/75th and he credits all of the Soldiers who landed on D-Day and sacrificed their lives as being the real heroes. He believes freedom is not free and it is our responsibility to convey this to the younger generation.