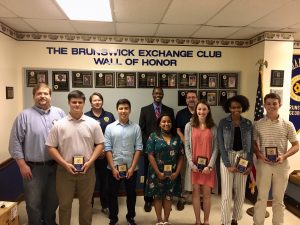 The Exchange Club of Brunswick recently held their third installment of the Student of the Month program, honoring high school seniors for February, March and April. A senior from Glynn Academy and Brunswick High school are chosen each month by their teachers and counselors for academic and extra-curricular achievement. Each student is awarded a plaque and a check for $100.00 from the Exchange Club of Brunswick.
Pictured from left to right (back row): Pres. Elect George Barnhill, Past Pres. Marcus Edgy, Chairman SOM Paul McKenzie and Pres. Kevin Higgins.
Pictured from left to right (front row): Brunswick High School senior Sidney Hall, Mauricio Padilla, Nahid Khalil and Glynn Academy senior Brianna Milks, Hanay Waye, and Jon Michael McKinnon.