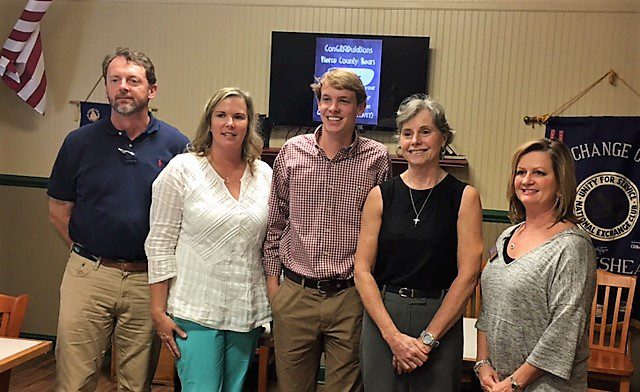 The Exchange Club of Blackshear Student of the month for March was Ashton Cantrell. Ashton is active in Soccer, Beta, First Southern Jr. Board and the Math Team. He chose Debra Perkins as his favorite teacher and said the reason was because she knows her subject matter so well and teaches it like it is a good story, so it really keeps your attention. (We have heard this by several of Ms. Perkins students.) Ms. Perkins stated, "Ashton is an excellent student and a good person inside and outside of class" She stated he is one of about 10 members left on the Dual Enrollment History Class she teaches. This class is a college level class and it started out with about 25 or so people in it, but the others were not able to manage it properly. Ashton plans to attend The University of Alabama in the fall and major in Finance.Pictured: Ashton's parents, Nick and Melanie Cantrell; Ashton Cantrell; Debra Perkins, Pierce County History Teacher and Chris Shimkus, Exchange Club President.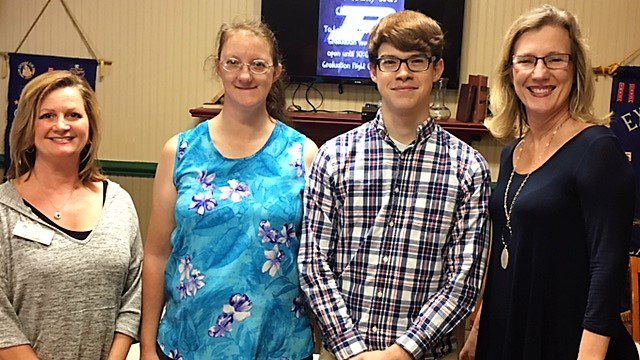 Matthew Winchester was the February Student of the Month for The Exchange Club of Blackshear. He is an excellent math student which is probably why he chose Mrs. Becky King as his favorite teacher He said, "She doesn't stop teaching until she knows we have gotten it, and that is what I love about her." Mrs. King stated, " Matthew gives new meaning to STUDENT. He actually studies and is very attentive and systematic in problem solving". She said, "He works hard and is able to apply his analytical skills in order to complete his work and it is almost perfect." Matthew plans to attend Mercer University in the fall and study Biology and hopes to go on to become a primary physician.
Pictured: Chris Shimkus, Exchange Club President; Matthew's mother, Waunee Winchester; Matthew Winchester and Pierce county math teacher, Becky King.
The Exchange Club of Blackshear has selected two high school seniors to be Youth Of The Month for February and March.